Arthur J. Griffin '64, Covenant Society Member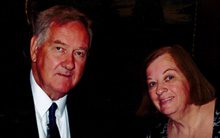 Arthur earned a BA in Philosophy, an MA in Counseling/Psychology from Manhattan, and an MA in Philosophy from Fordham.
A lifelong native of Queens, Art attended Bishop Loughlin H.S., where he first experienced the "high quality of care" the Brothers showered on their students. For Art, it was a natural progression to go from a Brothers' high school to Manhattan College to continue his education with "the Brothers who connected him with his faith."
Art and his beloved wife of 40 years, Ann, had no children of their own, yet they dedicated their entire adult lives to the service of children. They worked in, among other places, the Lt. Joseph Kennedy Home, Mt. Loretto, St. Dominic's of Blauvelt, and also taught in Catholic schools.
In 2007, Art retired from Catholic Charities after a 30-year career of coordinating youth programs. He is grateful to have had the opportunity to provide services to kids in need. Ordained a Deacon of the Catholic Church in 2007, he is now assigned to his home parish, The Church of the Transfiguration. His ministry includes visits to the elderly in the Midway Home in Maspeth, Hampton Care Center in South Hampton, and the Benison Rehabilitation Pavilion in Flushing, Queens, where he distributes Communion, provides comfort, and engages the residents in choral singing.
Art, now a widower, remains active in the service of others, especially the homeless, through Project Hope, a ministry of his parish in Maspeth, Queens. On Mondays he can be found in the church hall serving the less fortunate, and on Tuesdays he collects food and clothing to be distributed to the needy.
Arthur is grateful for his knowledge of the Brothers, his belief in their work, and his great joy of having been a Brothers Boy. To help provide for the future well-being of the College, he has designated Manhattan College as a beneficiary of his estate.
Back
© Pentera, Inc. Planned giving content. All rights reserved.