Margaret and James Brady '47 Use Creative Assets to Endow Scholarship for Business Students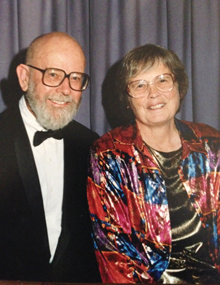 James '47 and Margaret Brady
James Brady's high school success in track led him to Manhattan College, where as a freshman he was a member of the Jasper team that won the IC4A cross-country title.
In his junior year he was among 150 Manhattan College students recruited on campus by the U.S. Army. At the end of the semester he was conscripted and served from July, 1942 to January, 1946. "I was fortunate. The Army sent me to University of California, Berkeley to learn Japanese and afterwards to Washington to serve in military intelligence decoding intercepted Japanese messages."
The GI Bill made it possible for Jim to return to campus in 1946, and thanks to University of California's 13 credits in Japanese he completed his degree in 1947. That same year he was accepted to the Harvard School of Business MBA program.
While at Harvard he went on a blind date with a Wellesley student named Margaret who would become his wife in 1949. The couple moved to Ohio, where Jim worked as a director of marketing for several large builders. "I always wanted to be self-employed, so in 1959 I began my own building and developing company. It took a few years, but I did it. I was on my own."
Jim established the Margaret and James F. Brady '47 Endowed Scholarship to benefit students enrolled in the School of Business. He funded the scholarship with a blended gift of stock and an irrevocable assignment of a life insurance policy.
Jim says, "I've been happy with my life—things turned out just fine." Margaret and Jim have five children, eight grandchildren, and one great-grandchild and divide their time between Ohio and Florida.
Back
© Pentera, Inc. Planned giving content. All rights reserved.