Louis Vitali, '79, '84, Gives Back to Manhattan in Gratitude for Education and Lifelong Friendships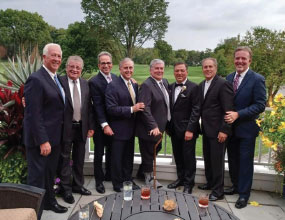 Lou Vitali (center) with the Band of Italian-American Brothers from Manhattan College '79-'81. "This is why I give to Manhattan."
A first-generation American, Louis "Lou" Vitali grew up in the Morris Park section of the Bronx, New York. His father, an artisan, came to the United States in 1930. Through a commitment to hard work and business know-how, his parents were able to open a shop that designed and crafted statues.
Lou followed his parents' example in every way. A graduate of Cardinal Spellman High School, he entered Manhattan College in 1975 with nearly 70 of his classmates. To help pay his way during college, he cut grass at Calvary Cemetery in Queens for four summers and worked part-time for his father.
Though he initially considered medical school, his appreciation for his parents' achievements led him to the College's School of Business. After graduating in 1979, he became a certified public accountant in 1981. Attending Saturday classes with several of his undergraduate classmates, he went on to earn his MBA at Manhattan in 1984.
Giving back to his alma mater was a natural choice. "The College took first-generation American kids like me and gave us a solid education," Lou says. "The professors taught us much of what we needed to know for our respective careers in accounting, finance, and marketing, providing us with a foundation and expounding upon the value of hard work and perseverance so that we could earn a good living for ourselves and our families." In gratitude, not only for the excellent education he received but, more important, for the lifelong friendships that he made at Manhattan, Lou has pledged a generous planned gift to his alma mater. "Giving back at this point in my life is very important to me," he explains.
Equipped with his Manhattan College education, Lou excelled in his career. Studying law at Fordham University while working full-time as a CPA, he earned his JD degree in 1988 and became a member of the New York Bar. His distinguished career as a partner with several prominent law firms focused primarily on corporate transactions involving real estate - representing well-known private equity funds and development companies. After retiring from the practice of law, he founded his own company, Realization Real Estate Group LLC, which invests in commercial real estate.
Today, he and his wife Angela live in New York's Westchester County. They are the proud parents of Ali Vitali, a Tulane University graduate ('12) and a Capitol Hill correspondent for NBC and MSNBC, and Alyssa Vitali, a University of Richmond graduate ('15) and the social media coordinator for a women's fashion brand. Lou continues to appreciate the lessons he learned at Manhattan College and the friendships that continue to this day - prime reasons for his generous pledge. "I want to help a new generation of hardworking young people to experience the kind of education and quality of people that meant so much to me," he says, "my classmates and so many others."
Back
© Pentera, Inc. Planned giving content. All rights reserved.