A Captain and a Jasper—A Love Story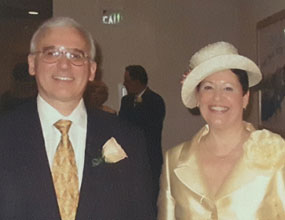 Karen Laino Giannuzzi and Ralph Giannuzzi '68

Karen Laino Giannuzzi established the Ralph J. Giannuzzi Scholarship in Mechanical Engineering in 2016 to honor the love of her life from the class of '68.
Karen wanted to be a Marine since she was 6 years old. Her father was a WWII and Korean Conflict veteran, and his stories greatly influenced her. She could sing the Marine hymn as a toddler. So this beautiful girl of Italian heritage from Philadelphia walked into a Marine recruiting office in 1969 and signed up! Needless to say, she graduated first in her class from Officer Candidate School.
Karen quickly rose up the ranks to be the first female officer in the field of signals intelligence and electronic warfare and the first female commanding officer of a company in the fleet Marine Forces Atlantic. After ten years of service, she left active duty and worked moving mega yachts to various races and even worked as crew on Ted Turner's yacht. However, the service life pulled her back in, and within a year she was recommissioned—this time as a Naval office—for the next 21 years.
After retiring as a Navy Captain in 2001, she had the privilege to work in Legislative Affairs for the Senate and to serve as Director of Intelligence, National Security Council staff, under National Security Advisor Condoleezza Rice in the President George W. Bush Administration.
Ralph Giannuzzi, our Jasper, was a true Bronx kid. His father worked in the garment industry, and money was always tight. He graduated one year early from high school but had a tough decision to make. Despite being a die-hard Yankees fan, he was recruited by the Boston Red Sox for their minor league team. He had a 90-mile-an-hour fast ball, but he thought one injury and a baseball career is over in a split second.
Manhattan College offered Ralph a promising future. Always holding a job while attending school, he graduated in 1968 with a mechanical engineering degree. He landed his first job working on the development of the mechanical escape lanyards for the Apollo program. He then went to Leviton Manufacturing Company's global headquarters and worked his way up to overseeing 19,000 employees in manufacturing plants around the world. He held the patent for the Rocker Switch using a Star Spring—which you may have in your home to turn on the lights. Ralph's daily commute to Leviton was via a commercial flight from his home in Annapolis, Maryland, to Long Island—he would say it was quicker than driving from his former house in Greenwich.
Karen and Ralph found each other through the fate of match.com on May 5, 2002, Mother's Day. Karen mentioned in a telephone call that she would be singing in the choir that day at the Baltimore Basilica (the first Roman Catholic cathedral in the United States). Being a good Italian son, Ralph decided to take his mother to Mass that day and thought why not drive an extra half hour from Annapolis to Baltimore to finally meet Karen? Needless to say, Ralph saw Karen from her perch in the choir loft and within two months they were married (with Mama's blessing).
Among his many talents, Ralph was also an accomplished musician and wrote many love songs for Karen. They traveled the world together after moving to Belgium where she was director of NATO Military Intelligence.
Ralph always expressed his gratitude for the education Manhattan gave him. He was a proud Jasper and would say Manhattan gave him everything he needed for success. After Ralph's passing in 2014, Karen established the Ralph J. Giannuzzi Scholarship in Mechanical Engineering. She said, "Ralph had it rough working while attending college. If I can make it easier for someone to attend Manhattan and not have to worry all the time about where the money comes from, I'd like to do it on behalf of my beloved Ralph."
Back
© Pentera, Inc. Planned giving content. All rights reserved.