Richard V. Robilotti '65: Dedicated Jasper and Philanthropist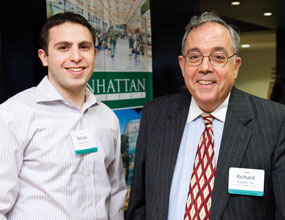 Richard V. Robilotti '65

In March of 2019, Manhattan College lost an alumnus whose dedication to its students will live on in perpetuity through his generous bequest to the College. In 2017, Richard V. Robilotti '65 founded his Merit Scholarship benefiting strong academic achieving upper-level students active in community service and bequeathed much of his multimillion-dollar estate to it. The lives of many students will be forever changed by his gift of education.
The last event Richard attended at Manhattan College was the Scholarship Dinner in April of 2018. Scholarship awardees have an opportunity to meet their donors in person and thank them for their help. Richard met the first recipient of his Merit Scholarship, Leah Reiner '19, that day. He was truly impressed by Leah's academic success and thoroughly enjoyed their conversation about her future plans.
Richard's support did not end with Manhattan's students. Over the 54 years since his graduation, he supported many programs and attended many College-wide events. His support included, but was not limited to, the Raymond W. Kelly '63 Student Commons, the Ascend Campaign in support of the library, and the Chapel stained glass window project.
In addition to attending Scholarship Dinners, he also enjoyed the College's Horan Lectures. Being a self-proclaimed foodie, Richard particularly enjoyed the lecture featuring restauranteur Danny Meyer—the founder of Shake Shack among many other renowned restaurants.
Richard's love of Manhattan College stemmed from his father, Dr. James G. Robilotti '22, a senior physician at the now closed St. Vincent's Hospital in New York City. In 2013, he funded the Mendelian Medal for Biology, which is bestowed annually in memory of his father. The award provides tuition assistance to full-time academically superior pre-med students as they prepare for acceptance to medical school.
After Richard received his bachelor of science from the School of Arts and Science, he earned master's degrees from both the University of Virginia and Columbia University. In his career, he climbed the ranks to the powerful position of Deputy Commissioner/District Director for the U.S. Department of Labor. In 2016, he retired after an illustrious 43-year career.
Back
© Pentera, Inc. Planned giving content. All rights reserved.