DONOR PROFILE: Mauro J. D'Addato '59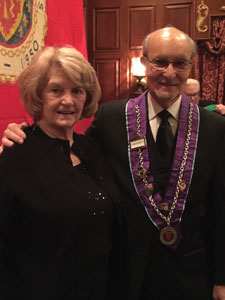 Mauro J. D'Addato '59
Like many Jaspers, Mauro J. D'Addato '59 ("Mickey") hailed from the Bronx and was the first generation in his family to attend College. His father was an auto mechanic and his mother a seamstress.
He attended Blessed Sacrament High School in New Rochelle where he was awarded the Science Medal, and then on to Manhattan College. While taking a rigorous class schedule in Riverdale, he worked at Brooks Brothers—which helped pay the $14 per credit tuition. He quickly embraced the College and joined the Alpha Phi Delta Fraternity, composed of young men of Italian heritage.
Mickey fell in love with math at Manhattan. He said, "Brother Alfred, Brother John, and Dr. Taylor paved the way for me." He excelled in most subjects, except the language requirement—German. "Despite speaking fluent Italian, I was only given a choice of German or Russian since I had a technical curriculum," he exclaimed. Yet, he completed an amazing 54 credits in mathematics as well as a major in physics and eventually received an MBA from Farleigh Dickinson University.
Immediately after graduation in 1959, he joined Kearfott Guidance & Navigation—where he worked on many top-level projects including the Advance Cruise Missile System for the Air Force and the Guidance System for the Navy's Trident submarines. He was instrumental in establishing the company test site at Holloman AFB in Alamogordo, New Mexico, and received many awards from the military. He retired in 1994 as the Vice President of Quality Assurance.
Mickey was a partner in De-Jea Enterprises and the owner of Wynwood Associates, LLC (property management & acquisition). In honor of his business partner, who was Jewish, he supports the Holocaust, Genocide, and Interfaith Education Center on Manhattan's campus.
Mickey and his wife reside in New Jersey and have two children and four grandchildren. "Manhattan has given so much to me, beyond an education, that my contributions to the Annual Fund, Class gift, special projects, and the Covenant Society are the best way I can say 'Thanks,' " he said. Grazie molto, Mickey!
Back
© Pentera, Inc. Planned giving content. All rights reserved.