Donor Profile:
Thomas F. McGowan '72 PE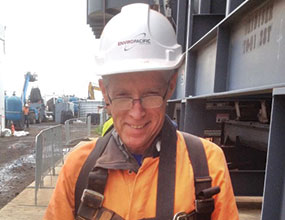 Thomas F. McGowan '72 PE

In the 47 years since his graduation from Manhattan College, Tom McGowan has earned esteem as an award-winning author and founder of a leading specialty engineering consulting firm. He traces much of his success to his mother taking him to numerous "campus day" tours at Manhattan College. Exploring the School of Engineering, he was "mesmerized" by the civil lab (crushing cement cylinders and snapping inch thick steel bars), the hydraulic lab, the bio lab, and the research conducted by faculty and students. "All of it," he says, "just spoke to me." That, and his Cardinal Spellman High School counselor, when looking at his records, saying "good in math, good in science, you are an engineer."
The Riverdale, New York, native enrolled in Manhattan's rigorous chemical engineering program. The youngest of six children—with five older sisters—Tom also held as many as three part-time jobs. In one of those positions, he spent a summer surveying fall-out shelters with the Army Corps of Engineers in Northern California.
After earning his bachelor's degree in chemical engineering in 1972, Tom traveled around the country before returning to the School of Engineering for his master's degree in chemical engineering. He went on to earn a second master's degree in industrial management at the Georgia Institute of Technology.
Drawing upon his education and broad experience in the industry, Tom is president of TMTS Associates, Inc., a consulting firm he founded in Atlanta in 1999. The firm specializes in combustion, air pollution control, solids handling, thermal desorption, biomass energy, and the environment. The author and editor of numerous scholarly papers, books, and magazine articles, he is a U.S. patent holder. In 2010 he received Chemical Engineering Magazine's Personal Achievement Award.
Always grateful for his Manhattan education, Tom is dedicated to supporting the College. When Helene and Ken Orce '65 launched the Jasper Challenge, with a 10% match for any planned gift (estate gift), Tom quickly joined the effort. Manhattan, he says, gave him the knowledge, skills, and values to excel in his field: He is determined to provide similar opportunities for future generations.
Back
© Pentera, Inc. Planned giving content. All rights reserved.