Ramon R. Joseph, MD, '52, Leaves Gift in Will for the Benefit of Future Jaspers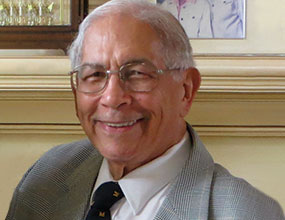 Ramon R. Joseph, MD, '52

Ramon R. Joseph, MD, Professor Emeritus of Medicine at the University of Michigan, was always grateful to Manhattan College because although he was a star student and athlete, his parents could not afford to send him to college. On the night of his high school graduation, Ramon learned that he was awarded a full scholarship to Manhattan College. The scholarship was a dream come true. In gratitude for his education and his successful career, Dr. Joseph has left a legacy gift to Manhattan College in his will.
Ramon R. Joseph, MD, born in 1930 in New York City, was the son of Helen and Felix Joseph. He was married to Mary Ann (Kowalchik) Joseph for 50 years until she passed away in 2006. Dr. Joseph received a BS degree from Manhattan College, New York. After receiving his MD from Cornell University and a fellowship in gastroenterology, Dr. Joseph became a Professor of Medicine at the University of Michigan, Assistant Dean, and Chief of Medicine at the Wayne County General Hospital.
Dr. Joseph's professional biography is in Who's Who in the World, Who's Who in America, Who's Who in Medicine and Healthcare, and Who's Who in Science and Engineering. He published numerous scientific papers, established free clinics for indigent patients, and co-wrote the K-12 curriculum for education on drug abuse in Michigan.
In Sun City West, Dr. Joseph was a member of Advent Episcopal Church where he served as a vestry member and senior warden and created a patient advocacy ministry through which he helped countless parishioners and others with various medical issues.
Having a lifelong love of ballroom dancing and gourmet cooking, he shared his many talents and phenomenal meals with friends. Late in his life he made his theatrical debut as a singer and actor in Theatre West and was a member of HandiCapables and the Beardsley fitness facility.
He leaves a son, Ricardo Joseph, MD, of Michigan, and two daughters: Maria Thompson of Michigan and Lisa Benson of Florida.
Always a physician, a scholar, and a gentleman, Dr. Joseph was first and foremost a family man. He will be well remembered by nieces and nephews, cousins, friends, colleagues, patients, and students that he touched along his life journey.
Back
© Pentera, Inc. Planned giving content. All rights reserved.