Denis '55 and Pat Sullivan: Helping New Generations to Gain an Education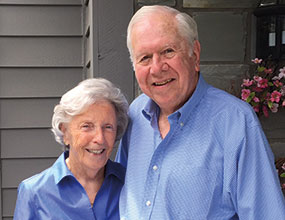 Pat and Denis Sullivan '55

Denis Sullivan knows the power of a Manhattan College education. As a first-generation student in the 1950s, he gained the knowledge, skills, and values to rise through the ranks at some of the nation's top corporations.
"The College—and the Christian Brothers—had a huge impact on my life," said Denis. "The things I learned at Manhattan propelled me to a successful sales career."
Denis and his wife Pat made a joint decision to create a scholarship endowment that helps new generations of Jaspers. "Pat and I hope this scholarship will assist today's young people in completing their degrees and pursuing successful careers," he said.
Like many Jaspers, Denis was the child of immigrants. His parents left Ireland for New York as young adults. They met, married, and raised a family in their adopted city. Working as a maid, Denis's mother saw how her employers prized education. She encouraged Denis to pursue attending college.
His first choice was Manhattan College, where he enrolled in 1951. Four years later, with a degree in business administration, Denis began his ascent in the business world.
Married for 60 years, with five children and 13 grandchildren, Denis and Pat embrace the Lasallian value of service. Denis has been a board member at New Jersey's Valley Hospital. He and Pat are also long-standing, annual supporters of his alma mater.
Recently, a friend asked Denis what the College could do to express appreciation for his support. "Nothing," he responded. "Manhattan has done more than enough already."
Back
© Pentera, Inc. Planned giving content. All rights reserved.