Robert G. Pulver '69 Honors His Uncle with Scholarship Gift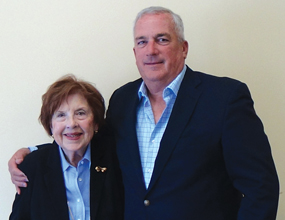 Bob Pulver visits campus with his aunt Wynn Camas
Bob Pulver attributes his admission to Manhattan's School of Engineering to his late uncle, Walter Camas '52, a proud Jasper who believed his nephew would benefit from a Manhattan College degree. After a long and successful career in business, Bob has chosen to honor his uncle's memory by establishing the Walter Camas '52 Endowed Scholarship in support of students in the School of Business.
In the fall of 1965 Bob entered the School of Engineering for what he says were "four rigorous years." Two weeks after graduation Bob left the East Coast, and he has been in the Midwest ever since.
"I never worked as an engineer, but my educational background taught me to think," Bob says. He transferred those skills to business and found great success.
In 1974 he started a company that would become All-State Industries, and he has served as its CEO and president for the last 41 years. The company supplies urethane, plastic, and die cut rubber parts to Fortune 100 companies involved in the manufacture of equipment. The parts are used in the construction, agriculture, mining, and lawn & garden industries.
Bob and his wife Deb reside in Des Moines, Iowa, and Scottsdale, Arizona. Bob is active in charity work in his local community and at Iowa State University; among other roles, he sits on the board of Blank Children's Hospital at Iowa Methodist Medical Center.
Bob recently visited campus with his aunt, Wynn Camas, in order to establish the scholarship in honor of his revered uncle who started him on the path to success.
Back
© Pentera, Inc. Planned giving content. All rights reserved.