Charitable Gift Annuities—A Slam Dunk for Manhattan College and Peter Sweeney '64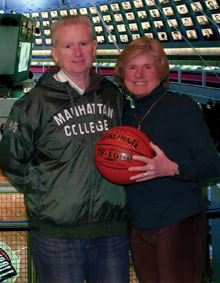 Pete Sweeney became an avid Jasper basketball fan in 1956 when, as a Manhattan Prep freshman, he attended his first college game. More than 50 years later, Pete is just as proud to be courtside cheering on his favorite team—and supporting his school with a charitable gift.
Pete earned a BS in electrical engineering in 1964 and a master's in management in 1979. In 1970, while home on liberty from the U.S. Navy, Pete visited his grandmother in the hospital and had the good fortune to meet Dianne, the nurse caring for her. Forty-three years, two children, and seven grandchildren later, Pete is still amazed how Grandma Katherine was in the right place at the right time and by her matriarchic predictive powers in foretelling that they would marry.
Pete recently retired from a long career in engineering. However, he is still busy with his avocation—adjunct professor in the College's School of Engineering.
When thinking about his upcoming 50th anniversary of graduation, Pete says, "I had a wonderful experience at Manhattan and I want to make sure that experience is made possible for future generations of students." Dianne and Pete decided a deferred gift annuity would be a good way to provide support. Dianne explains, "A gift annuity provides us with secure income during our lifetimes, and it allows us to give back to the school that has given us so much."
Back
© Pentera, Inc. Planned giving content. All rights reserved.