Helene and Ken Orce '65 Issue the Jasper Challenge to Support Endowment, Facilities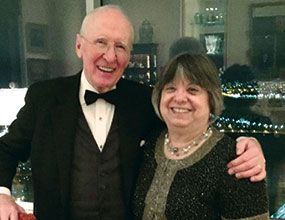 Ken '65 & Helene Orce

The challenge aims to raise more than $15 million to support the College.
Helene and Ken Orce '65 have delivered a challenge to Manhattan College alumni, family, and friends.
The Orces began the Jasper Challenge with a pledge of $1,500,000 as a challenge grant. The funds will augment qualifying planned gifts from alumni and friends.
Each qualifying planned gift will benefit from an immediate 10% match from the Jasper Challenge, which will match gifts to the College's endowment and to facilities, with an ultimate goal of $15 million resulting from the Jasper Challenge
"Over time, I've come to appreciate more fully the generosity of Jaspers who preceded me and enabled Manhattan to provide life-altering support to me and innumerable others," said Orce, who received a full scholarship to cover his cost of attendance after his father's passing days before the start of his junior year.
"The core of Manhattan's ability to continue such support depends on the continuing generosity of generations of Manhattan graduates. Rest assured that this beneficiary will be forever thankful and inspired."
Orce graduated from Manhattan College cum laude and went on to attend Harvard Law School, where he was editor of the Harvard Law Review. A member of the College's board of trustees, Orce recently retired after more than 40 years at the law office of Cahill Gordon & Reindel—representing a wide range of leading domestic and foreign entities, including insurance, financial service, and investment companies.
Back
© Pentera, Inc. Planned giving content. All rights reserved.