Dr. Moujalli Hourani '81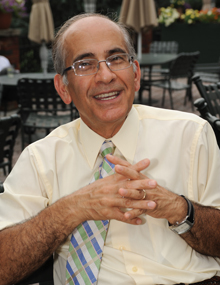 Dr. Moujalli Hourani, a graduate of Manhattan and one of the College's most highly regarded professors, is well known to the College and in the broader professional engineering community for expertise in his field and his desire to serve the greater good.
Dr. Hourani received the Lasallian Distinguished Educator Award in 2006, which is given to persons of faith who teach by example and give life to the Lasallian values that animate and sustain the mission of Manhattan College. He was the first faculty fellow to hold the Thornton-Tomasetti Endowed Chair in Civil Engineering; and in addition, he is the chief advisor to Tau Beta Pi, the engineering honor society.
Dr. Hourani has a special appreciation for the role that Manhattan College played in his life and feels responsibility to give back to the institution that made him who he is. For Dr. Hourani, giving back to Manhattan through student support is "doing the right thing."
When his sister-in-law Nermine passed away, Dr. Hourani wanted to honor her lifelong commitment to caring for her family. In a gesture befitting his avocation and profession, Dr. Hourani asked that his gift of scholarship be used to provide assistance to a female student enrolled in the civil engineering program. "I am happy to be able to help students who have so much to offer the world," he said.
Back
© Pentera, Inc. Planned giving content. All rights reserved.